5 Steps to Invest in a Successful Crypto Startup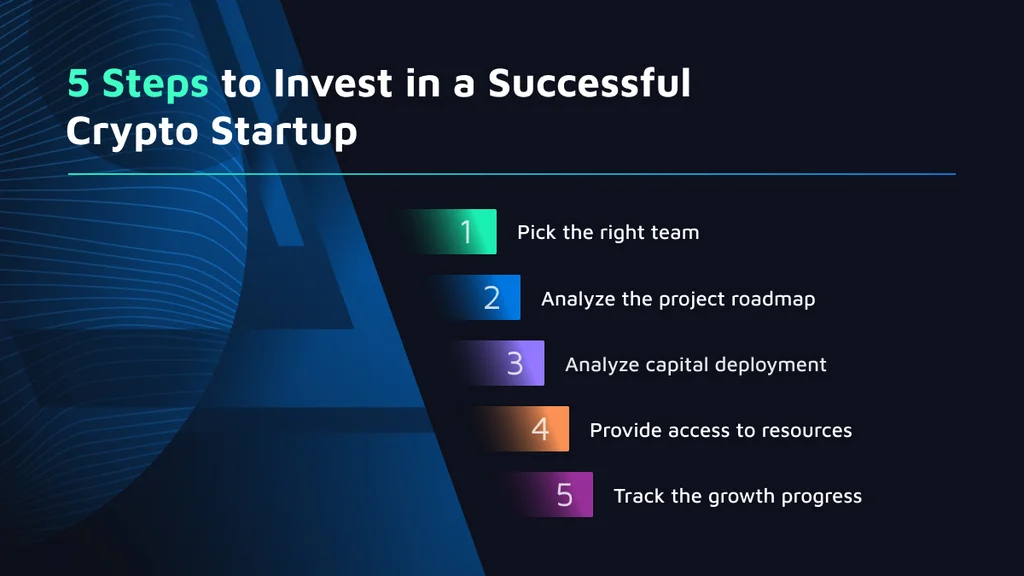 An emerging crypto market is full of risky opportunities. If you invest in the right crypto startup, your seed funds may fly to the moon. However, it takes a thorough framework to understand if a project has the potential to grow.
We recommend going through these 5 steps to becoming a successful crypto investor:
Pick the right team
Analyze the project roadmap
Analyze capital deployment
Provide access to resources
Track the growth progress
How to Pick the Right Team for Crypto Startup
Check out the Candidates' Experience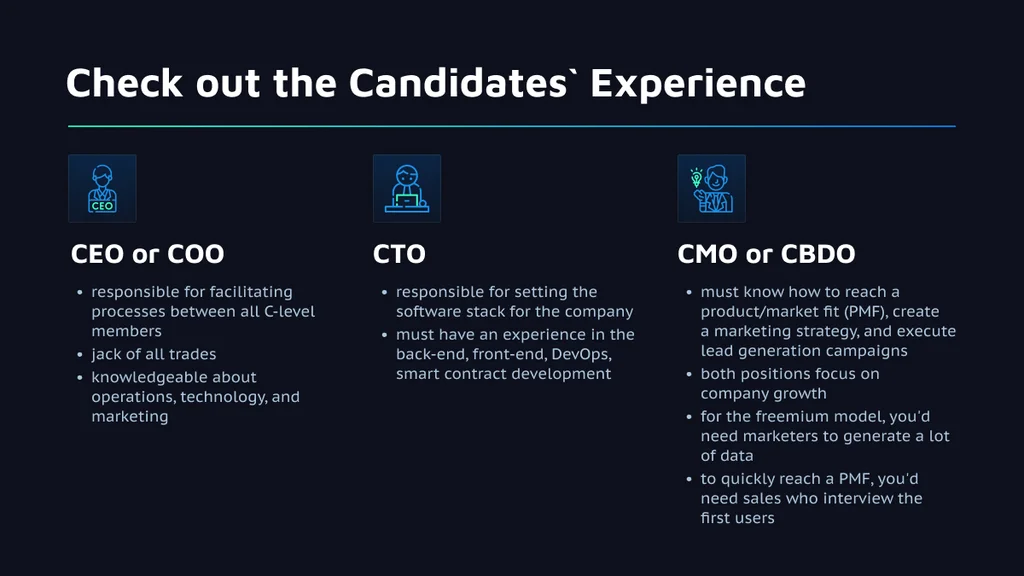 The Crypto startup structure starts off with the founders who take on executive roles:
CEO – Chief Executive Officer
COO – Chief Operational Officer
CTO – Chief Technical Officer
CMO – Chief Marketing Officer
CBDO – Chief Business Development Officer
Check the founders' backgrounds and experience to understand if they are fit for their executive roles. Below, you can check the prerequisites for a successful role/experience fit.
CEO or COO
CEO is responsible for facilitating processes between all C-level members. This person has to be a business version of a jack of all trades. They are knowledgeable about operations, technology, and marketing. You'd need a person who has worked in different roles or one role but has interacted with other roles a lot.
For example:
a marketer who has assigned technical tasks to developers
a developer who has interviewed software users
a manager who has built processes for marketers or developers
COO is responsible for optimizing company workflows. It has to be a person with a management or automation background. They are knowledgeable about management methodologies, goal achievement flows, and know which one to apply to the team. They also know software tools for performing and tracking tasks.
For example:
a manager who has built processes for marketers or developers
a marketer who has automated software and documented the flows for people
a developer who has designed task flows in project management software
CEO can also take on COO's responsibilities. Although having a dedicated executive for operations helps an encumbered CEO.
CTO
CTO is responsible for setting the software stack for the company. In a product startup, they take on the role of a director who leads development sprints. This person must have an experience in the back-end, front-end, and DevOps development. If it's a web3 startup, the CTO must know how to build smart contracts in different blockchains. They should also be good managers who are good at planning and time management.
For example:
a full stack developer who has coded front-end, back-end, DevOps
a project manager with a prior developer experience
CMO or CBDO
Both titles are responsible for turning a startup into a scaleup. They must know how to reach a product/market fit (PMF), create a marketing strategy, and execute lead generation campaigns. Both positions focus on company growth.
Whether it's marketing- or sales-led growth, it depends on the business model of a startup. For the freemium model, you'd need marketers to generate a lot of data. To quickly reach a PMF, you'd need sales who interview the first users.
Note that experience in growth is more relevant when a startup has already reached PMF.
For example:
a marketing or sales manager who has set up lead generation flows
a marketing researcher who has conducted user interviews
a marketing strategist who has created and executed at least 10 strategies
Check out the Candidates' Reputation
Regardless of experience, you should invest only in people you trust. This is especially important in the crypto market as there are a lot of scam projects out there.
To check a person's reputation, you can do 4 things:
Review their social media profiles
Google a person's name with malicious keywords like "scam", "fraud", "arrest"
Talk to mutual contacts about their experience with a person
Run background checks like name change and arrest history
Figure out the Candidates' Professional Traits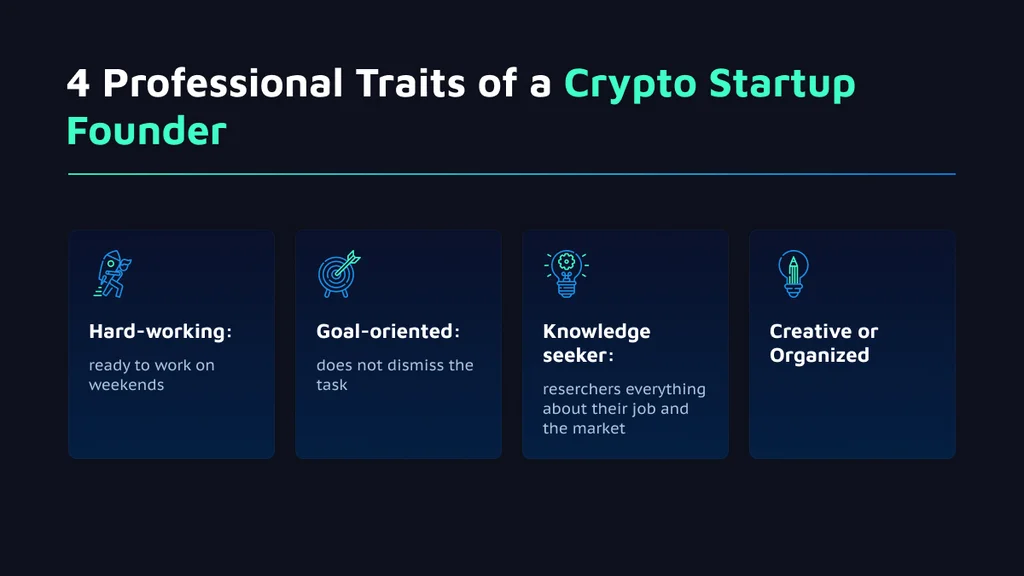 It takes a lot of effort to build a business. Only a handful of people are prepared to carry out the work. You can identify them by looking for these traits:
hard-working: ready to work on weekends
goal-oriented: doesn't dismiss the task until all possible solutions are explored
knowledge seeker: researchers everything about their job and the market
creative or organized
The last trait defines the fundamental operation mode of a startup.
A creative founder excels at creating a vision and ideas. They are agile and can change their vision at any time if they find a better one. Creative founders are most helpful for reaching product/market fit and drafting a lot of growth hypotheses. However, they tend to be bad at executing their vision. As they get new thoughts, their vision changes so fast, that it's hard to execute the plan according to the original idea.
An organized founder is great for executing the vision. They know how to set up the workflows, and track metrics & KPIs. Structured founders are helpful for converting a vision into a structured process with clear signs of success. However, they are bad at creating a vision. If they are turned in the wrong direction, they will drill down to complete the tasks without regard to growth metrics.
A good founder team consists of both creative and organized founders. A creative founder can't properly execute their vision. While a structured founder can execute a meaningless vision with no future.
How to Perform Due Diligence On Crypto Startup
If you're looking to invest in an established startup with a PMF but no resources, review this info:
Blacklist
Sanctions
Marketcap position
Tokenomics
Cybersecurity measures
Blacklist
Before looking into important information, make sure you're not dealing with a scam. You can google the project name and read what people say. Alternatively, you can use scam directories like https://toxiclist.io.
Sanctions
Due to the Russian invasion of Ukraine, it is now legally forbidden to work with Russian companies in some jurisdictions. Make sure you filter out these startups early in the research.
Marketcap position
Check if a project is present on Coinmarketcap or CoinGecko. From there, you can see their capitalization rank. The lower the number, the more it indicates a successful product/market fit.
Tokenomics
It's important that a project has a clear understanding of its token model. Generally, the tokenomics doc should outline 5 things:
how the project is going to drive the demand for utility cases
how the model fights the token inflation
which blockchains house the token
token distribution
utility cases
Cybersecurity measures
Find out if a project is prepared to deflect a hacker attack. If a project has been publicly audited, you can review the audit report. Another way to protect a crypto startup is to use crowdsourced solutions like bug bounty. Basically, it's a public program for rewarding whitehats for each discovered vulnerability. These can be self-hosted or run on 3rd-party platforms.
If you're overwhelmed by all the security prerequisites, you can use crypto security directories like CER.live or Coingecko to check the overall security or trust scores. To check the trust score on CoinGecko, you'd need to head to the overview tab and click on the security section:
Analyze the Project Roadmap
Choose Between Pitch Decks With or Without PMF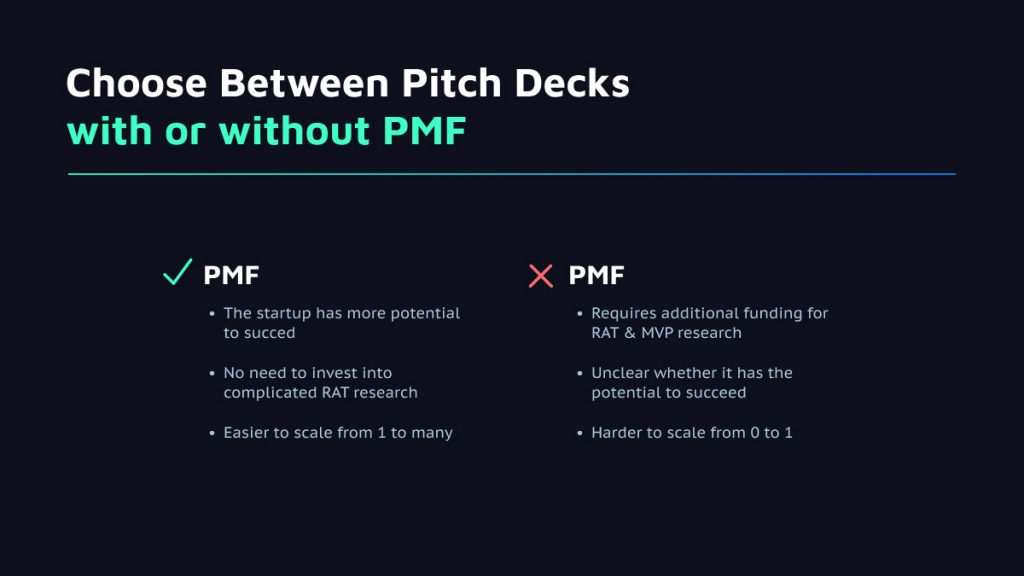 When potential project founders reach out to you, they usually include a pitch deck. The presentation lists the main business idea, but it may not have the signs of a product/market fit. If you invest in a business without PMF, these funds will be used to build an MVP until it reaches the PMF. In this case, the initial business idea will change along with its model and target audience.
To be more confident in a project, you can at least ask the founders to do the riskiest assumption test (RAT) first. This approach goes a step before an MVP, ensuring there is a demand for the product. For example, creating a landing page with a waitlist and running a paid ads campaign to see if there's enough demand to sign up. If a solution is brand-new, they will need to interview potential users to see if it really solves a problem.
Analyze the Project Timeline
The traditional way of doing business has taught us to plan in months, quarters, and years. However, this kind of long-term planning is not applicable to a startup environment. It just doesn't make sense to plan 1 year ahead if, in month 2, a project will need to pivot to a different direction. There's no point in sketching a lead generation campaign if a product has never reached the product/market fit.
What's more important is not the plan, but how it was derived in the first place – the logic behind it. At first, a startup must focus on reaching PMF. Then, it should scale all operations from lead generation to DevOps. It's much more valuable to see a scheme of business algorithms instead of a calendar plan.
The plan merely depicts the end results of each phase: build a product, create a marketing strategy, build a website, etc. What's worse is that it also relies on hypothetical time allocation for each action. A similar transition of this concept has happened in project management. A lot of IT companies have ditched a Waterfall approach for Agile. Instead of clear deadlines, there are now sprints that are managed by status cards.
The business diagram would show conditions and actions to take for each growth sprint. For example:
Conduct 10 user interviews
Build MVP
Get MVP feedback from 10 users
Test activation metrics
Repeat until the activation metric reaches 50%+
Instead of challenging the forecasting abilities of your founders, challenge their skills to build workflows that lead to project growth.
Analyze Capital Deployment
When project founders request funds to grow their business, they should provide a spreadsheet with their planned capital deployment. Your job is to make sure that each expense line is evaluated correctly:
specialist salary and software expenses are relevant to the market data
there are enough salary and software expenses to sustain a project for the first year
Provide Access to Resources
Connect Startup Founders With Your Knowledge Resources
Building a startup is a challenge that requires a lot of knowledge to tackle it. While you may be confident in founders' experience in growing a business, it's a good idea to back them up with more knowledge resources.
You can start off with yourself. Use your own experience in specific fields to consult the founder team. To expand on your recommendations, you can share your bookmarks on certain topics you've read. If you are subscribed to relevant business media, it would be helpful to share those with the team.
Connect Startup Founders With Your Networking Resources
Make sure to introduce your founder team to your business contacts. They can either consult the team or become part of the operations.
Introducing industry consultants can help coach your team in matters where you and the founders are briefly informed.
Sharing developer contacts can help your team with early recruiting. If you already have an agency in mind, it might save time on team building. Although you'd need to weigh in the pros and cons of in-house vs outsourcing.
Unfortunately, hacks are still common in web3. To ensure the information security of the startup, connect your team with your cybersecurity vendors. These range from auditors to bug bounty platforms. Having an early game plan for security can prevent the startup from getting bankrupted by a serious hack. Although you'd need to look for a solution that scales with the startup growth.
For the commerce side, you can recommend marketers and salesmen to grow the startup. Marketers would help out with gaining data and analyzing product/market fit, while salesmen could hasten the customer-product feedback loop by hosting the consulting calls with the first users.
Don't forget about researchers, UX specialists, and web designers. They will play a major role in reducing friction in the product interface. If you're acquainted with some top talents in these fields, definitely connect them with the founder team.
Track the growth progress
Choose the Management Framework
Once you agree on equity shares and capital deployment, you'll need to hold the founder team accountable for their plan and execution. To do this, they'll need to set up a management framework. There are at least 3 known management frameworks:
Objectives and Key Results is when you set a simple but ambitious objective without technical metrics. The key results are metrics that indicate the completion of an objective. OKR should be stacked by annual, quarterly, and monthly goals.
Key Performance Indicators are important metrics to track. You'd set a goal for each business metric like revenue, conversion, and users, and set up the operations to reach the planned KPIs.
SMART goal is when you set logical goals according to the acronym rules: Specific – look into one metric to improve Measurable – the metric can be calculated Attainable – plan a goal that is realistic to achieve Relevant – explain how exactly you are going to improve that metric Timely – set the deadline for the planned goal completion
Once you've agreed on the framework, structure your executive meetings with a clear agenda. It would have to review the completed and scheduled goals according to the framework.
Decide on the Frequency of Executive Meetings
You'd want to choose the interval that suits the conditions the best. The options are:
Daily
Weekly
Bi-Weekly
Monthly
Quarterly
The decision depends on how well things are progressing and whether you'd like to involve yourself more in the project. Typically, bi-weekly meetings are a good balance between just starting out and making progress. From here, you can tweak out the frequency depending on how many goal blockers there are. The more blockers, the more often you'd need to run these meetings.
List of crypto funds
@rugsurfer has made a list of 92 crypto funds. Click here to access the spreadsheet.