Background of the Partnership
HackenProof has long been a pioneering force in the cybersecurity landscape, working tirelessly to bolster the integrity and security of the digital sphere. Today, we are thrilled to announce our partnership with Hack The Box, an esteemed educational platform known for its dynamic, real-world-inspired security challenges. Our united goal? To take a quantum leap forward in the education and understanding of blockchain security.
A Dynamic Playground for Cybersecurity Enthusiasts and Professionals
Hack The Box, the platform serves as a vibrant digital arena where cybersecurity enthusiasts and professionals alike can test and hone their penetration testing skills. With an ever-evolving array of challenges that mirror real-world scenarios, the platform offers an immersive learning experience that consistently pushes boundaries in cybersecurity training.
Benefits to the Learners and the Cybersecurity Community
At HackenProof, we believe that education and practical experience are fundamental in fortifying the security of blockchain technology. With these challenges, we're not just providing learners with a comprehensive understanding of smart contract vulnerabilities, but we're also instilling them with a broader awareness of the potential weaknesses inherent in blockchain systems.
In keeping with our mission of engaging education, these challenges are fully gamified, presenting an immersive 8-bit RPG experience. Enter a world teeming with mythical creatures and endless possibilities, where learners take on the role of Alex. It's an adventure that promises to be as thrilling as it is enlightening, making for a memorable learning journey where courage, determination, and intelligence are rewarded.
Challenges structure
Every week, a new challenge will be released on Hack The Box, spanning a total of 10 quests with varying levels of difficulty. These challenges, curated by the experts at HackenProof, aim to cover popular vulnerabilities in blockchain technology.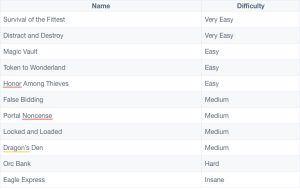 The partnership uniquely positions us to leverage Hack The Box's acclaimed CTF-style platform and HackenProof's in-depth expertise in blockchain security, creating a truly transformative learning experience.
Our aim is to equip aspiring and established hackers with the necessary knowledge about blockchain security, providing them with the tools to protect the web3 ecosystem.
Join us as we embark on this new frontier in blockchain security education and start hacking right now!