What is a referral program?
It's a system where you get rewarded for the people you invite to the platform. The more people you bring, the more rewards you get.
Our referral program is a bit different. Rewards are provided per each validated bug instead of per new user.
How does the referral program work on HackenProof?
Program overview
We've launched an experimental referral program for 2 months. If the effort is successful, we'll keep it.
Every HackenProof hacker has a personal referral link now. When new users sign up via that link, they connect to your account. Don't worry about your data though. You won't share any account information.
When your referred user submits a valid bug report, you will earn 5% of their reward. For example, if your referral user gets a $100 000 bounty reward, you will get a $5000 referral reward.
Note that your referral users will obtain the full reward. We pay out referral bonuses from our own resources!
The referral connection only works via the signup link. Existing users cannot use the link to get connected to someone.
Gaming the system will not be tolerated
Referral programs are tricky. If done wrong, they can be exploited not in favor of the platform's growth.
We are committed to making this program fair. If we detect any attempts to exploit this program, we'll ban the accounts along with their rewards and bonus points.
How to find the referral link
Head to your profile settings
On the left menu, click on "Payments"
On the top right, click on "Show referral code"
Copy the link and send it to your friends!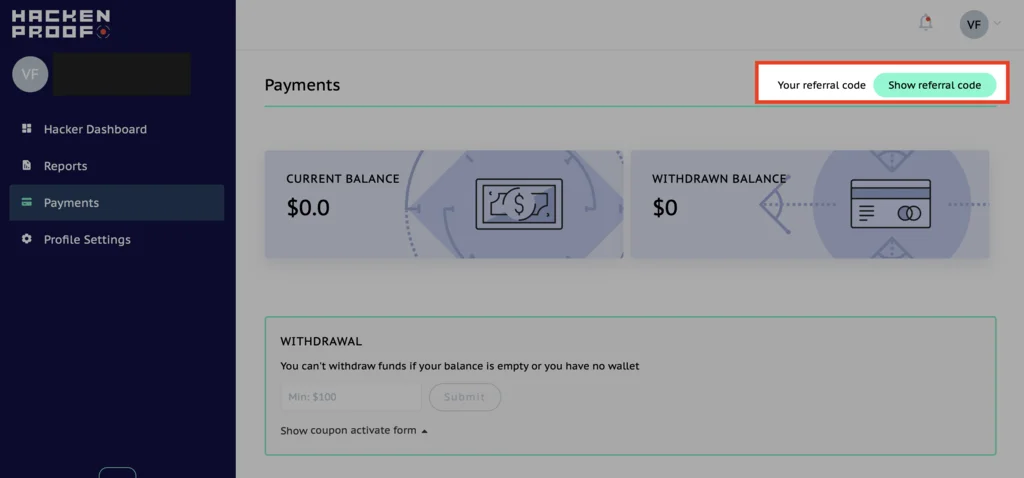 How to check the referral rewards
In the same payments settings, scroll to the bottom: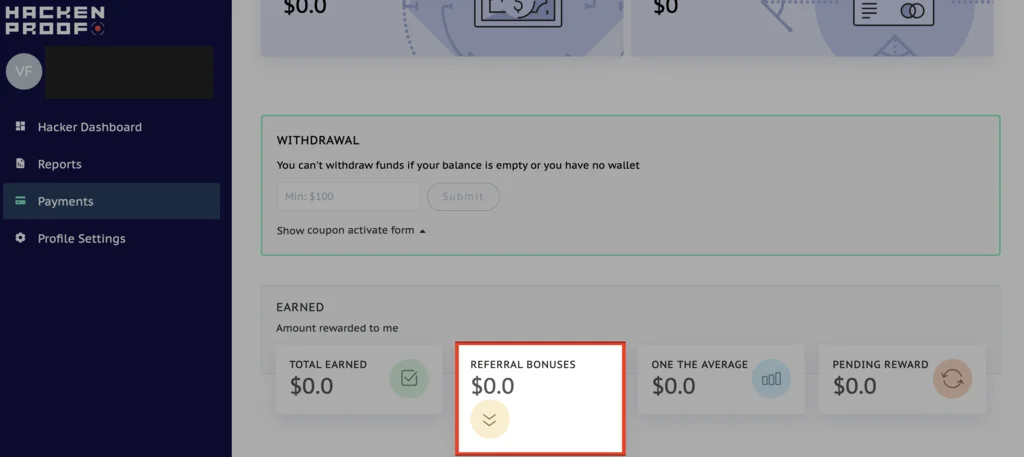 Each referral bonus will be logged in your transaction history:

When your referred user gets a bounty reward, you'll need to wait up to 48 hours before we'll send the referral bonus to your account. The referral reward will be sent to the same account where you get bounty rewards. From there on, you can withdraw the funds as usual.