Firebase apps: what about security?
Mobile applications have become a core element of the modern digitized global economy. Businesses operating in different industries realize the value of digital interaction with clients through applications. However, to develop new applications from scratch, companies need to spend huge resources including money and time. That is why market players have been actively looking for the solution that would simplify their life. The Firebase platform has become a universal solution for companies interested in developing highly functional applications while saving resources. 
Firebase is the Business-as-a-service (BaaS) application development platform that allows companies to focus on developing interfaces instead of writing back-end by providing a variety of tools and instruments. The platform is built on Google's infrastructure. The list of key features of the Firebase platform includes authentication, real-time database, test lab, hosting, notifications, etc. However, even the Firebase platform does not cover all functionality requests made by companies. That is why internal engineers working in the companies that use the Firebase platform still need to develop some sorts of functionality. Also, even the core functionality provided by the Firebase platform is later adjusted by the company's R&D specialists subjects to its business specifics and users' preferences. Thus, even if Firebase may be considered as a highly protected product, the security of the solutions developed using this platform heavily depends on the quality of work performed by the internal specialists of a particular company.  
The number of businesses using BaaS products is rapidly increasing and such platforms as Firebase cannot develop universal solutions that would be equally secure for all clients. Generally, the companies using the Firebase platform are responsible for developing key security mechanisms. Firebase does not monitor whether companies have correctly integrated the solutions it provides. That is why the companies that develop their applications using the Firebase platform should invite independent professional third-party auditors to test their new products. Only professional auditors can identify security flaws or bugs in applications that could make them vulnerable to external threats. 
There is a number of security testing options used by professional auditors to test clients' products. However, due to the variety of products customers want to test, the expertise and skills of internal specialists of a particular security auditor are likely to be insufficient to find all security issues. That is why, for the last few years, the popularity of bug bounty programs as one of the most effective and universal security testing options has increased dramatically. Within the scope of bug bounty programs run on professional platforms like HackenProof, independent white hat hackers from worldwide can work on detecting bugs in the clients' products in exchange for rewards. So, let's dive deeper into the nature of bug bounty programs.
What is a bug bounty program?
A bug bounty program is a universal security testing solution offered to companies by professional security auditors. Companies just specify the scope of the program and its terms and duration. After that, a large community of ethical researchers starts working on detecting bugs using the tools and mechanisms that have been pre-approved by a customer. Upon detecting a bug, independent researchers notify a customer and instruct him on how to fix it. Researchers are rewarded for every bug detected and the sum of the reward depends on the severity of a bug. Companies may decide either to run bug bounty programs on their website or apply for the services provided by professional bug bounty platforms. In the latter case, these platforms are responsible for ensuring that their researchers meet high ethical standards. For more information about bug bounty programs, please view the following material.
Bug bounty program and security audit
Bug bounty program is a form of security testing that may be run in parallel with security audits. Compared to security audits that are performed by internal specialists of a security vendor, bug bounty programs rely on external independent researchers that do not represent the staff of a security vendor. Security audits are performed within the deadline specified by a vendor while bug bounty programs have a continuous nature and their timelines depend on customers' demands. When ordering a security audit, a company has to pay the specified price without regard to the volume and quality of outcomes while when running a bug bounty program, a company pays independent researchers only for the detected vulnerabilities. That is why the companies that are focused on ensuring security should try to combine bug bounty programs with other forms of security audits to effectively prevent data breaches. 
How much does a bug bounty program cost?
The prices for bug bounty programs are very flexible and depend on the scope of customers' requests and the tariffs set up by professional bug bounty platforms. Apart from paying rewards to ethical hackers for revealed vulnerabilities, companies also need to pay subscription fees. Generally, every market player sets up its own pricing mechanisms with regard to its expertise and reputation as well as the level of professionalism of the researchers it invites to work on detecting bugs in clients' products. For a better understanding of how much you may need to spend on running a bug bounty program, please view the pricing page of one of the leading bug bounty platforms – HackenProof. 
The value you get by running bug bounty programs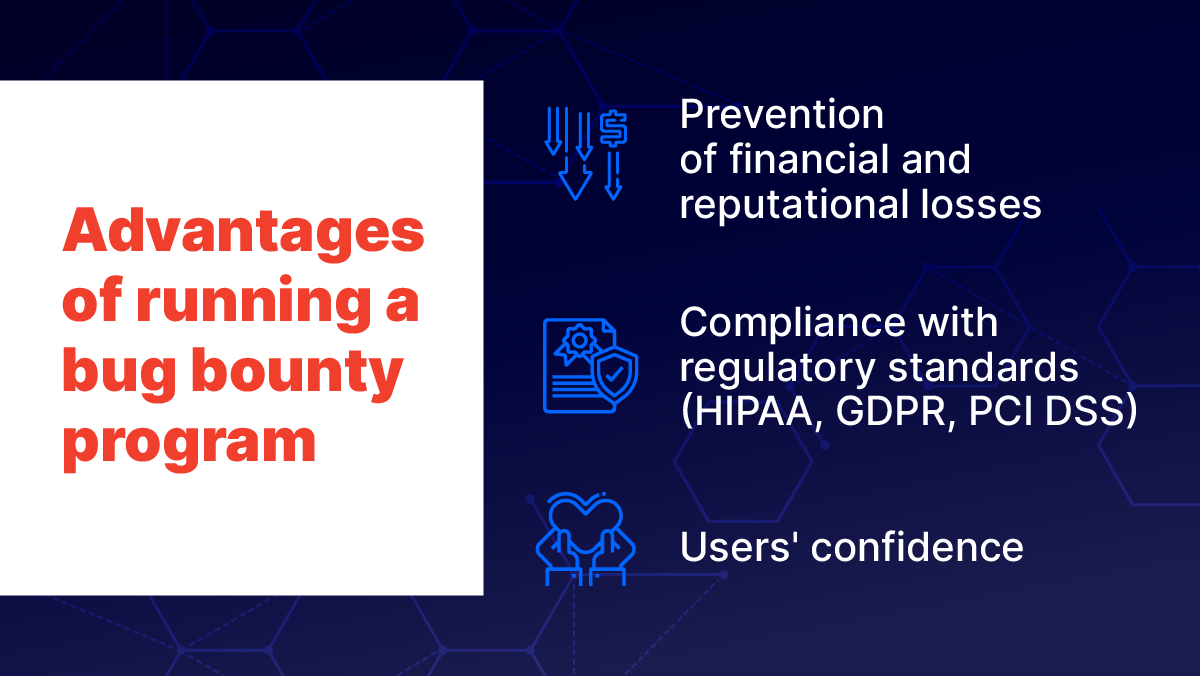 Bug bounty programs do not only help companies reveal bugs and security flaws that have remained undetected by their internal security specialists but may also serve as the confirmation of their focus on guaranteeing customers' security. By running a bug bounty program companies can dramatically increase their chances to get certifications issued by regulatory bodies. For example, to become HIPAA, GDPR, and PCI DSS compliant companies need to prove that they have applied adequate security measures to prevent data breaches. Generally, by running bug bounty programs companies mitigate the risks of falling victims to cybercriminals and, thus, can prevent both financial and reputational losses. 
How to apply for a bug bounty program?
You can contact our team via chatbot on our website or reach us via social media:
HackenProof Facebook: https://www.facebook.com/hackenproof/
HackenProof Twitter: https://twitter.com/hackenproof
HackenProof Telegram: https://t.me/hackenproof
HackenProof Instagram: https://www.instagram.com/hackenproof/